Service Scheduling Software
Service Scheduling Software is a particular type of Scheduling Software.  It is a web application that is accessed through a web browser.  It allows office-based users to view and control every aspect of managing field workers on a day-to-day basis.
The Scheduling Software needs to provide real-time visibility of how work is progressing. Compliance levels and field worker availability needs to be visible to the Scheduler.  The Scheduler also need to have visibility of where the field worker is (i.e. on map) and if they are currently online.  Knowing that they are online means that if you dispatch new work to them then you know it should be acknowledged quickly.
Real-time view
The scheduling software needs to give people like supervisors and schedulers a real-time view of what is happening in the field. They need to be able to easily identify problems like late or incomplete work so that they can be actioned.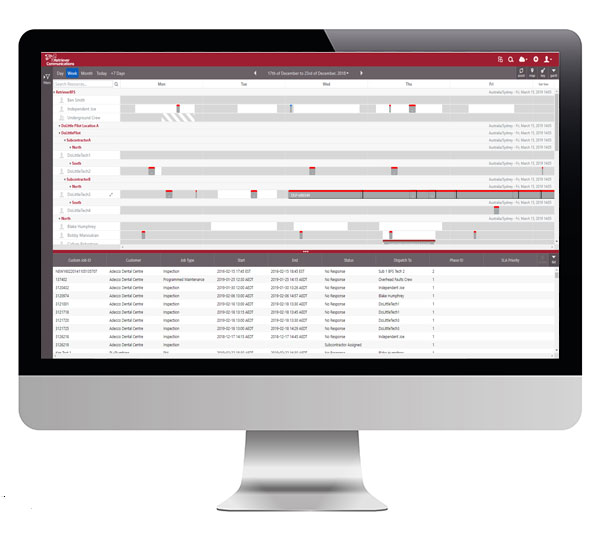 Subcontractor Support
Many industries have field workers that are made up of subcontractors. The scheduling software needs to cater for subcontractors. Not only does the organisation need visibility of their subcontractors but so do the subcontractor companies themselves.  Scheduling software needs to enable both so that they can schedule and track work from start to finish.
Service Scheduling in Australia
Service Scheduling Software in Australia requires field workers to be organised by either by State or Region or Profession. For example, it is common to group all NSW based field workers and then further group them by Region (e.g. Sydney, Central Coast). Sometimes it is useful to group field workers by profession or primary expertise, for example mechanical and electrical technicians might be separated to ease the allocation of work. These groupings also allow Schedulers to divide up the field workers that they manage. Typically a single Scheduler is responsible for at least 20 field workers.
Retriever has over 20 years of experience in helping Australia businesses with their Service Scheduling needs. To find out more, check out our local Solution.