What is Field Service Management?
The term Field Service Management isn't new and there are a number of definitions out there including Wikipedia's but most are quite generic and originate from when mobile devices were relatively new. Here is our updated definition that relevant in 2021:
Field Service Management (FSM) is how a company manages the challenges of having employees who are predominately in the field. They need mobile devices to access relevant data and to communicate with the office. They need to be equipped with the tools to handle poor connectivity and safety hazards.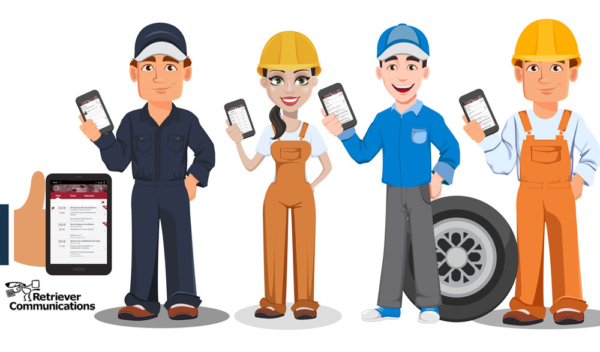 Field Service Management in Australia
Field Service Management in Australia presents a number of challenges including the weather conditions and demographics of the field service technicians and their managers. The sun, heat and remoteness experienced in many parts of Australia make it challenging. The FSM software and hardware used needs to be built to withstand these conditions.
Typical conditions include bright sunlight, 40+ degrees, heavy rain. Australian technicians often need to work at heights (e.g. up a poll), deal with dogs or various (sometimes poisonous) wildlife. Other times they need to work in a lift shaft or inside a scorching roof.
Mobile device screens need to have good contrast to be seen in the bright sunlight. Users shouldn't be required to put their device on maximise brightness to be able to see the screen outdoors. If they do then it is going to drain the battery pretty quickly and they are not going to be happy.
Mobile applications need to be able to work offline as mobile coverage can't be assumed. This is especially the case in remote areas but even in the larger cities like Sydney, mobile coverage can patchy at the best times. Using web-based applications just doesn't cut it in most cases. You need something native.
Field service technicians in certain industries in Australia are dominated by males over 40 with often literacy issues. These workers also haven't grown up using Smartphones so can sometimes be slow to adopt new technologies. For these reasons, it is imperative that the mobile applications are easy to use and they match the workflow that the users follow.
Field Service Automation is not about replacing your field force with robots.  Rather it is about streamlining the tasks that the technician, their supervisors and back-office staff perform.  This allows the operations to be more productive and focus on the important and highly skilled tasks.
Typically, the first step in automating is around the communication and data transfer between the field service technician and the office.  This automation allows the technician to maximise their time in the field because they don't need to come into the office anymore. It also eliminates the double entry of data and associated errors.
Field Service Automation is an initiative usually started by the National Field Service (Operations) Manager.  They are looking to maximise productivity of their staff to increase profits. This is either by reducing the number of staff required to do the same amount of work. Alternatively it is to increase the capacity of their teams to get through more work. The Field Service Manager also has to consider important factors like safety, compliance and customer satisfaction.
Field Service Management Software
Field Service Management Software is an essential tool for modern organisations to deal with the challenges of managing a mobile workforce. FSM software consists of mobile applications for the field workers and web-based applications for back-office people to schedule and track work.
Different job types and workflows
Field workforces perform a number of different types of work like planned maintenance, inspections or repair/servicing work. The field service software applications need to support different workflows for these different types of work. The field worker needs to be presented with the correct workflow for doing that particular type of work in the most efficient way.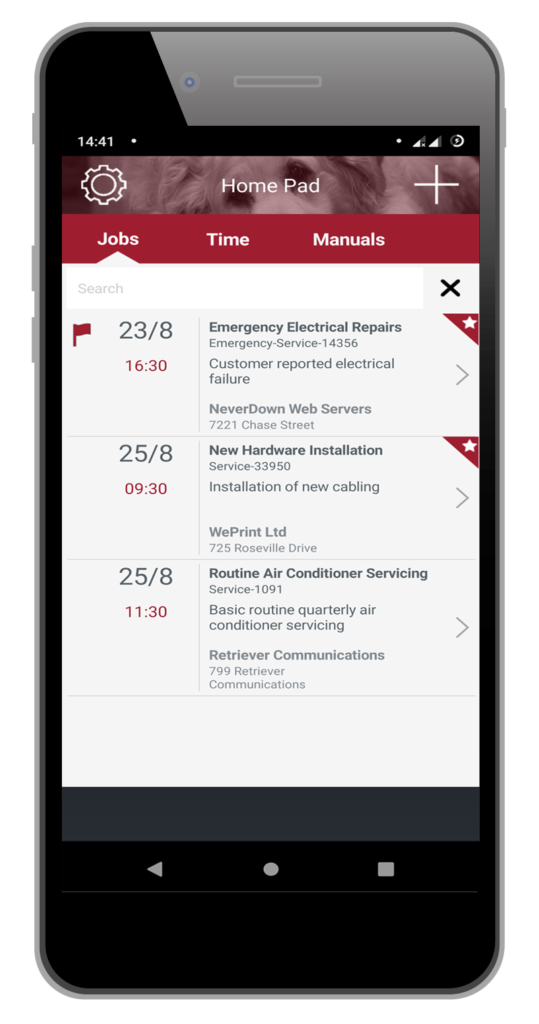 Reliable and works in poor coverage
FSM Software needs to be as reliable as the rest of the tools in the field worker's toolbox. It can't lose data and has to be able to work in areas with poor or no mobile data coverage. For these reasons, the mobile applications need to be native and not web-based.
Field Service Scheduling Software
Field Service Scheduling Software is accessed through a web browser. It allows office-based users to view and control every aspect of managing a field service workforce's day-to-day activities. The Scheduling Software needs to provide real-time visibility of how work is progressing. Other important factors like compliance levels, and field worker availability also needs to be visible.
Real-time view
The scheduling software needs to give people like supervisors and schedulers a real-time view of what is happening in the field. They need to be able to easily identify problems like late or incomplete work so that they can be actioned.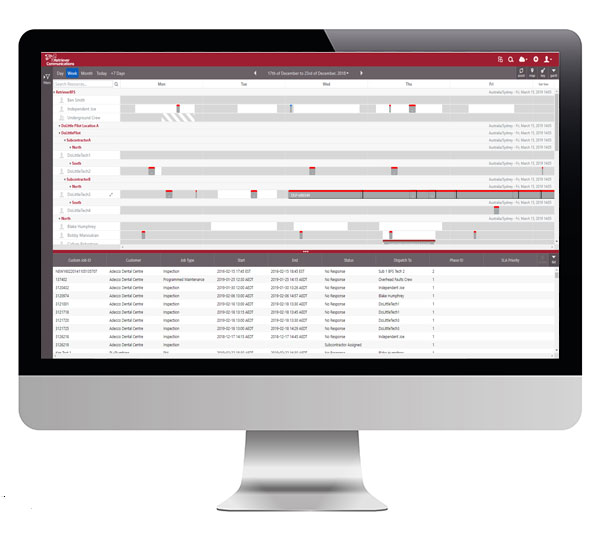 Subcontractor Support
Many industries have field workforces that are made up of subcontractors so the software needs to cater for these people. Not only does the organisation need visibility of their subcontractors but so do the subcontractor companies themselves.  Scheduling software needs to enable both so that they can schedule and track work from start to finish.
The Future of Field Service Management
The future of Field Service Management is going to be heavily impacted by Technology. As Mixed/Augmented Reality (AR) headsets become smaller and more adapted to industrial conditions, they will play a large part in the next 20 years. Many people are excited about the potential of being able to use mobile devices without having to use their hands.
In the future, AR headsets will be no larger than ordinary glasses. Combined with wearables, it is going to allow technology to be seamlessly integrated with the field service technician. They will have access to data when they need it, without having to pull out their mobile device from their pocket. This future is not far away!